Escape from Lincoln Prison
On the 16th May 1918, Eamon de Valera boarded a train in Hardcourt Street train station bound for Greystones, where he lived at the time. Dublin Metropolitan Police officers were keeping a close eye on him, and as soon as their target got on board, they alerted officers to his whereabouts.
Whilst highly likely, de Valera's arrest could have been avoided. When the train arrived at Bray, the driver stopped, and walked into his carriage and informed him that there were two officers aboard that were going to arrest him. He offered to slow down the train before it reached Greystones so that he could jump out. But de Valera declined, as he had ignored the warnings given to him by Sean T. O'Kelly and Ned Broy. He was duly arrested on the platform of Greystones train station.
His arrest came on the same evening as that of dozens of others as part of the so-called 'German plot', a conspiracy devised by Dublin Castle which detailed a purported plan between Imperial Germany and Sinn Féin to begin an armed uprising during the War. That evening, and for the next two days, over 80 prominent members of Sinn Féin were arrested and transported to prisons in Britain. Among those arrested with de Valera were Countess Constance Markievicz, Count Plunkett, W.T Cosgrave, Arthur Griffith, and Darrell Figgis.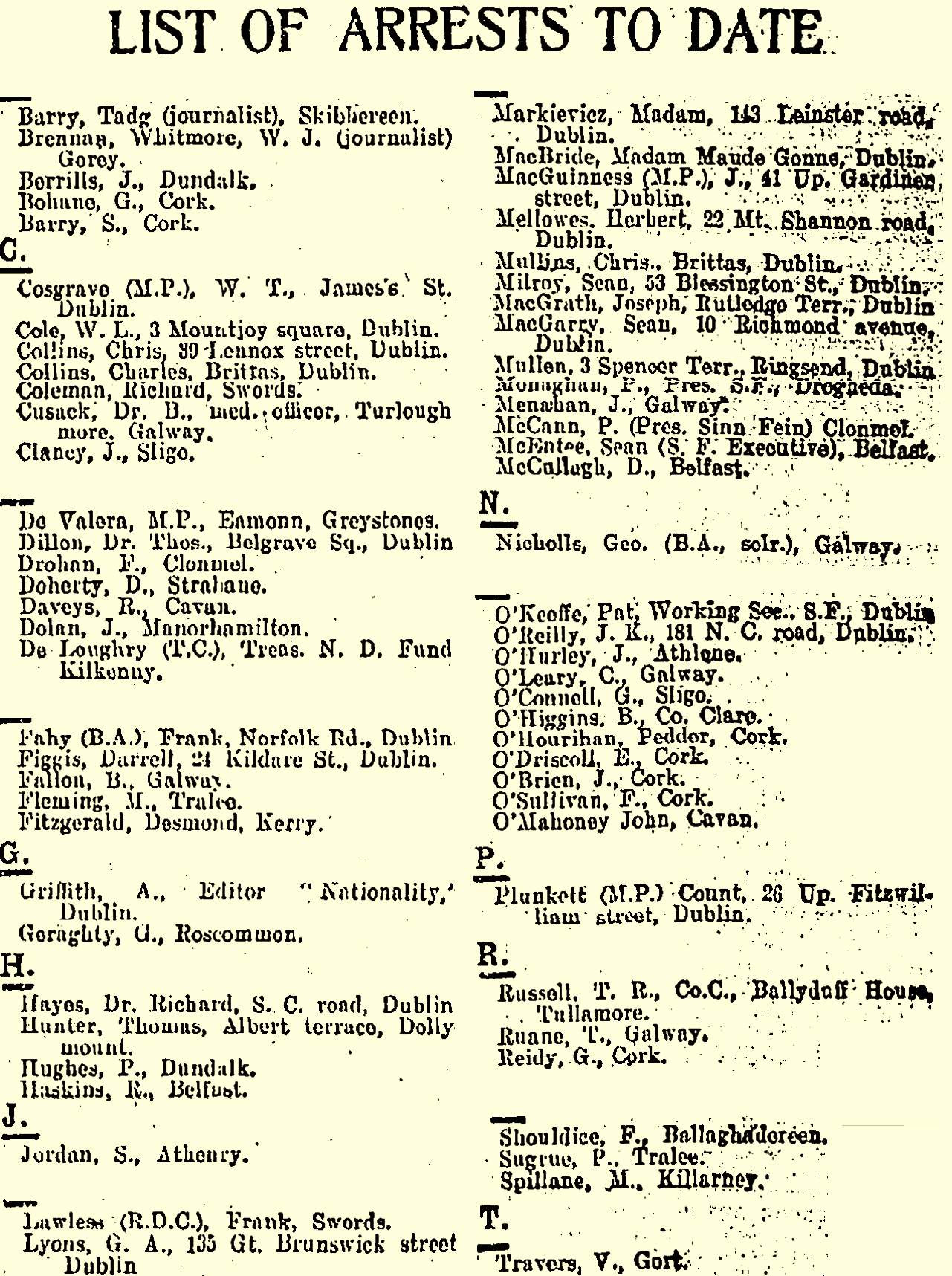 List of people arrested as part of the German Plot as published in the Evening Herald Newspaper a few days after de Valera's arrest
Life for de Valera in Lincoln prison could not be called harsh. He acquired for himself a gramophone and a typewriter as he led classes in Irish and Spanish for his colleagues. However, his incarceration did keep him from his family during difficult circumstances. His sixth child, Emer, was born in August 1918, and his wife, Sinéad, tended to each of their children as they all succumbed to the Spanish Flu. At a time when scores of people were dying of the illness in Wicklow, she kept them all alive with no medical help.
The General Election campaign came and went as de Valera was elected to two constituencies, Clare East and Mayo East. All the while, he lost a third constituency, Belfast Falls, to Joseph Devlin of the Irish Parliamentary Party. But the event which caused de Valera most agitation in prison, and which spurred on his desire to escape the most, was Horace Plunkett's departure for America. He viewed Plunkett's trip to America as an opportunity for him to propagate his theories on Home Rule. At such a critical juncture, de Valera was determined to go to America himself in the role of a figurehead of the Irish Republic and curry favour and, more importantly, funds for an independence struggle whose form, either peaceful or forceful, had not yet become wholly apparent.
A key person in the plans for escape were Kilkenny man, Peter DeLoughry. DeLoughry was a leading member of the Sinn Féin organisation in the area. In fact, during his time in Lincoln, he was elected as the Lord Mayor of Kilkenny, a position he would hold throughout the War of Independence and Civil War. DeLoughry was one of the thirteen Sinn Féiners that were lifted and imprisoned in Lincoln as part of the German Plot. Once the War ended in November, and there was no sign of anybody being released, he began to actively consider what would the best way of escaping. He determined that the easiest thing to do would be to simply open the door and walk out. He noted most of the locks in the prison were the same, and that if they could either get hold of, or design a master key, they might be able to escape.
It was decided, for the good of the cause, that if anybody was to flee Lincoln, it would have to be de Valera. When they approached him, he became an enthusiastic supporter of the idea and they began to plot a way to get a key.
The first step in their elaborate plan involved de Valera taking up a role he had served in his youth, that of an altar boy. He ingeniously used this role to gain access to the sacristy of the prison's chapel. In the inside of an old drawer he found the discarded butt ends of some candles. He pocketed them and the wax from these candles was melted and poured into a tobacco tin.
The daring plan next involved getting hold of the chaplain's set of keys as mass was being said and make an impression of them into the wax.
The first attempt went perfectly well up to a point. De Valera had the key in one hand, and the box of wax in the other, and with the chaplain busy reading from the missal, he tried to make an impression into the wax. However, it was a failure as the wax was not soft enough and no impression could be made.
But having learnt from his error, de Valera made sure to soften the wax enough with his body heat beforehand to allow the key sing into the softer wax. He repeated the act the next time he served mass. This time, the wax was sufficiently soft, and an impression of the key was made perfectly. The chaplain noticed nothing and the first phase of the escape plan was complete.
Fellow internee, Sean Milroy, was a noted cartoonist. De Valera approached him and asked that he draw a cartoon on a postcard that could be sent out without arousing suspicion. Milroy drew a cartoon of another inmate, Sean McGarry, in a prison cell. He was holding a giant key with the caption 'Xmas 1917, can't get in'. A smaller picture showed McGarry in a cell whose door had a giant keyhole. This was captioned 'Xmas 1918, can't get out'. The postcard looked deliberately ridiculous, but its true meaning was hidden in plain site. The giant key that McGarry was depicted as holding was in fact the exact dimensions of the master key that De Valera had taken an impression of with his wax tin. The giant keyhole was the exact size of the actual keyholes in the prison.
To avoid drawing attention to the true purpose of the postcard, it, along with a letter was addressed to a priest, Fr. James Kavanagh, based in Leeds. The letter had passages in English, Latin and Irish. The Latin and Irish passages, were disguised as quotes intended as greetings, but were loaded with coded references to the escape plan. De Valera had written the Irish passages himself in old Gaelic type, and was able to even hide some words in English in the passages, confident that any English censor would overlook them.
The letter and postcard reached Fr. Kavanagh who got in touch with Liam McMahon, who had been one of the leading members of the IRB in Manchester. McMahon gave the documents to Paddy O'Donohue. In his witness statement to the Bureau of Military History, he describes what happened;
Sometime prior to the escape a postcard was given to me by William McMahon who had received it from Fr. Kavanagh of Leeds. The blank space on the postcard contained the drawing of a key amongst other things. When I saw this post card it struck me that it had something to do with an escape of prisoners from the gaol, as Father Kavanagh had told me that this postcard had been sent out from the gaol.
I crossed to Dublin that evening and contacted Martin Conlan, who, in turn, made an appointment with Michael Collins.
I saw Collins that night in Mrs. McGarry's house and I showed him the postcard. Both Collins and myself decided that the postcard was a code relating to the proposed escape of prisoners from Lincoln … the full significance of the drawing of the key was now understood by all of us.
A key was then made, from the dimensions given on the postcard, by Gerry Boland. This was was baked in a cake by Mrs. McGarry. I took this key with me to England enclosed in the cake and had it sent in to the prison as a gift to the prisoners.
The key reached the prisoners and their excitement grew. McGarry tried a lock in a door in one of the corridors and to the horror of the prisoners, it broke in the lock. De Valera theorised that when the wax cooled in the tobacco tin, the impression of the key had shrunk slightly, leading to the incorrect dimensions being transferred to the postcard.
A second illustrated postcard was sent out to Fr. Kavanagh again. However, unbeknownst to the prisoners, Fr. Kavanagh was becoming reluctant to be party to what he was beginning to suspect, correctly, was an escape plot. Liam McMahon describes;
I had another visit from Father Kavanagh. Harry Boland was in the house at the time. Father Kavanagh told us he had received another message from Lincoln. He said he was watched all the time since he left his house in Leeds. He suspected something was happening while he was in the train. He said he feigned sleep and felt someone searching his pockets - which was all rot.
He did not bring the message; but said he had given it to a teacher; she was to be in the Midland Hotel and was to bring the correspondence at six o'clock Miss Talty was Captain of Cumann na mBan at the time; and Father Kavanagh asked her to go to the hotel to contact this lady.
Of course, Miss Talty could not contact her, because the lady was not there. She came back and reported it. I never saw Harry Boland in a temper before that.
Harry Boland ordered Paddy Donoghue to go back with Father Kavanagh to Leeds, and contact this girl. When they got to Leeds, Father Kavanagh would not take Paddy to the address. He said he would go himself; and when he came back, he said she had accidentally thrown it in the fire. It is my belief that he burned it himself, because he was a nervous little man. This caused further delay, as word had to be sent to the prisoners that their last communication had been destroyed before its contents were noted. Everything went on better after that.
With Fr. Kavanagh out of the picture, communications began to flow a bit more freely. This led to a few more attempts at getting keys into the prisoners. However, each time, the keys would not work.
Patience was becoming a finite resource within HMP Lincoln. However, towards the end of January, as Liam McMahon described in his Witness Statement, things took a turn for the better;
The first cake was baked in Ireland by Mrs. McGarry; and the key, according to the scale shown on the postcard, was enclosed, and put on the side of the cake.
Fintan Murphy took it over. When he arrived at the jail with it, he said he was a commercial traveller, and that somebody in Manchester had asked him to bring this cake. He was taken inside. The Head Warder was called, who brought a very thin knife, and started prodding the cake. Fintan was in agony over the thing, as to what would happen in the event of the knife touching the key. Anyway, he never contacted the key, and the cake was put in.
Of course, that key did not fit. Then we got instructions from Harry Boland to have two keys made in Manchester. The keys were made and sent in - in a cake brought by Harry Boland - to Lincoln, and handed over there to Frank Kelly to take in. Those keys did not fit either. That cake, by the way, was baked in our house, under the supervision of my wife, by Mrs. O'Sullivan, who was our housekeeper at the time.
Next we got instructions from the same source to get a blank key, of certain dimensions, to put it in a cake, together with some files necessary for cutting it out. This made the cake rather heavy, of course. My wife baked this cake. It was an oblong fruit cake. There was no icing or plaster of paris covering it, as Frank Kelly has stated in his "Reminiscences of Escapes". As a matter of fact, Frank Kelly never saw this cake, as Kathleen Talty took it from my house and brought it in at the prison.
About this time, Fintan Murphy arrived at my house with a rope ladder. Harry Boland, Mick Collins and Paddy Donoghue were present when he got there. The rope ladder was to be used, in case the keys would not open the outer gate. We discussed the plan in detail. Mick and Harry were to be at the door by which the prisoners were to emerge, and bring them to a spot some distance away where Paddy Donoghue was to be waiting with a taxi, in which the escapees would be conveyed to Worksop. On arrival at Worksop, they were to go to a particular place where Fintan Murphy would be waiting for them. They were to pay off the taxi, and proceed on foot with Fintan as guide, a few streets away where another taxi would be waiting to take them to Sheffield. Similar arrangements were made for Sheffield where they would be met by O'Connor, who would bring them to where I would be waiting with a taxi. Paddie Donoghue was to accompany the escapees from Lincoln to Manchester.
The day decided on for the escape (3rd February, 1919) came. Mick Collins, Harry Boland and Paddy Donoghue left me that morning to go to Lincoln. Up to that time, we had not secured a taxi for the journey from Sheffield to Manchester. At that time, owing to the scarcity of petrol and restrictions regarding its use, it was very difficult to get taxis to do long runs.
Before leaving, Collins said if I could not get a taxi during the day, that I was to go to Sheffield by train and contact them there. However, from an English Catholic friend of mine, named Littlewood, who was in the taxi business, I secured one. I told him I had to go to Sheffield to meet some co-operative friends of mine, that I had to bring them back with me, and that it would be rather late when I got back.
The schedule of arrival in Manchester was twelve o'clock midnight; and it shows you how well the arrangements were carried out - we arrived at five minutes past twelve. Mr. Littlewood's driver and myself went to Sheffield late that evening. I knew I had a fairly long wait; and I told him he need not worry - he could go and have a meal. I gave him some money to have a meal. We pulled up just outside a public house, where I was to contact them. There was a man, named O'Connor, who had to be brought in because Harry Boland told him about what was going to take place; and Harry thought what a grand chap he must have been. We knew, in Manchester, he could not keep his mouth shut; and we thought the best way to keep his mouth shut was to implicate him in it.
His job was to contact the prisoners when they arrived in Sheffield. He knew Sheffield, because he was in the insurance business there at one time. He knew where to pick up the escapees, and was to bring them to where I was waiting for them.
I was often looking at my watch and thinking it was a long, long wait. Eventually, they arrived - De Valera, Seán McGarry and Seán Milroy - with Paddy Donoghue and O'Connor. The four of them got into my taxi. We left O'Connor behind us. We faced for Manchester, and got there at about 12.50 a.m.
Coming down in the taxi, on the way to Manchester, Seán McGarry started to talk about how they should arrange for getting back to Dublin, making all sorts of propositions. De Valera turned to him and said: "Don't you think the men outside have done very well so far? Why not leave it to them now to do the rest?" I thought that was jolly good.
Victoria Park, where I lived, was a residential area. We pulled the taxi up outside the gates. Paddy Donoghue and De Valera went on a walking tour to where the latter was to be put up - at Father O'Mahony's; he was Chaplain for the Workhouse in Crumpsall.
I brought the two Seán's into my house, where Mary Healy was waiting to take them to her house in Fallowfield in Manchester. After they had tea, Kathleen Talty and Mary Healy conveyed them to their destination.
Four or five days afterwards, the Waterloo Cup was being run. Seán McGarry, dressed as a bookie, with a bag - "Billy Ellsworth" printed on it - went for the Liverpool train and got it. An Englishman lent his bag for the occasion. Seán Milroy was dressed as a strolling musician. He had grey hair, but it was now a beautiful brown, as he had dyed it in my place. He carried a violin case, and was going to the Races also. They got safely to Liverpool. After that, we made no further enquiries as to how they got across to Ireland; but they got across.
We got word from Detective Sergeant Thomas Walsh, Manchester Police, to say that it was dangerous to leave De Valera any longer at the priest's residence, as the police suspected he was staying there. The housekeeper must have spoken about it unwittingly. His presence became known; and he advised us to shift him immediately.
We procured a Colonial uniform, and De Valera dressed up in it. After dark, Kathleen Talty escorted him from Crumpsall to Victoria Park; and from there Mary Healy took him on up to her own house. He had no papers to prove his identity as a colonial but, fortunately, nobody bothered, and so he arrived safely at Miss Healy's house.
Then I went to Ireland, and was staying in Kilmacanogue. While I was there, I had a wire from Collins, saying: "Come, and be prepared to travel". On my way from Kilmacanogue to Bray Station, I met Joe Clarke, who was sent to meet me. At Harcourt Street Station, we met Joe Reilly, who conducted me to Hotel, where I met Mick Collins. He asked me: "Can you go across to Manchester tonight?" .I said: "Yes, if necessary". He said that there was a controversy between Cathal Brugha and Arthur Griffith; and the only one who could reconcile the difference would be De Valera.
He gave me a letter which I was to deliver to him. I crossed to Manchester that night, and gave my people a bit of a fright when I landed in without telling them I was coming. The following morning, around about nine o'clock, I called on De Valera. I told him the object of my visit, and handed him the letter. He said: "My own idea is that I should be allowed to go to America, where I could come out in the open; but if they want me at home, my own ideas do not matter". He said: "When am I to go?" I said: "To-day". He was brought to my house. Miss Talty, Miss Healy and Paddy Donoghue brought him in a taxi to Mrs. McCarthy's in Liverpool. Neal Kerr and Steve Lanigan would have made the arrangements for him there.
For more information on the escape from Lincoln Prison, check out Declan Dunne's fascinating book, Peter's Key, Peter DeLoughry and the Fight for Irish Independence. Many of the details of De Loughry's involvement in this account comes from this excellent piece of research. Also, the Witness Statements of Liam McMahon (http://www.bureauofmilitaryhistory.ie/reels/bmh/BMH.WS0274.pdf) and Paddy O'Donohue (http://www.bureauofmilitaryhistory.ie/reels/bmh/BMH.WS0847.pdf) are invaluable primary source documents.
---
[1] Irish Examiner, 4 January 1919
[2] Freemans Journal, 11 January 1919
[3] Freeman's Journal, 23 January 1919
[4] Meath Chronicle, January 25 1919
[5] Irish Independent, February 10 1919
[6] Irish Examiner, February 11 1919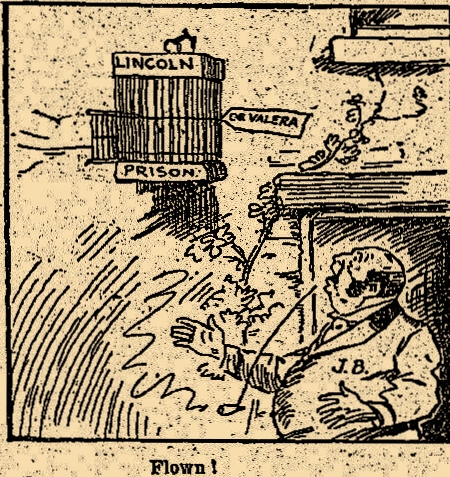 The Sunday Independent Cartoonist's take on de Valera flying from Lincoln Prison. 9th February 1919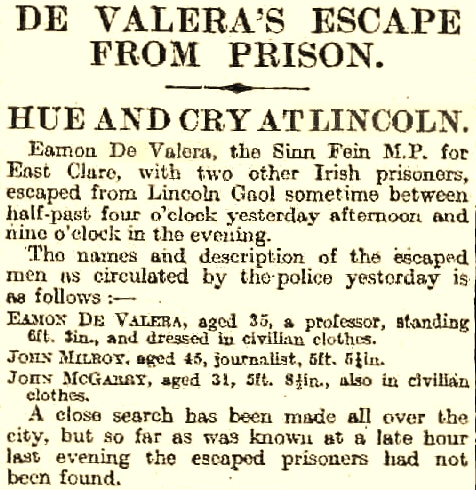 The first account in the London Times of de Valera's escape, including a description of the fugitive, along with descriptions of 'John' Milroy and 'John' McGarry. 5th February 1919
Fox Hunting and Sinn Féin
During the first sitting of Dáil Éireann on 21st January 1919, thirty six elected representatives were listed as 'Fé ghlas ag Gallaibh' (Imprisoned by the foreigners). This was nine more people than were actually listed as being present for proceedings. Several of them had been imprisoned in the likes of Lincoln and Usk Prisons for months, many since the trumped-up charges arising from the 'German Plot' in May 1918.
As the New Year dawned Sinn Féin began to consider new tactics to put pressure on the British government to release the prisoners. A slow trickle of releases began in the early weeks of 1919. However, most of them were on medical grounds, such as the release of Sean Etchingham from Lincoln Prison in January 1919. More prominent figures such as Eamonn de Valera remained behind bars, albeit as many of them were deemed to be interned rather than imprisoned, many of them led reasonably comfortable lives at his majesty's expense.
One area that Sinn Féin decided to target to curry support for their cause was a pastime with strong associations with the Anglo-Irish middle and upper classes; hunting. Many of the country's premier hunts were at their busiest in the early months of the year, and it was during this part of 1919 that moves were made.
The catalyst for this act of protest, and indeed the epicentre for much of the opposition that followed came in the rural districts of Westmeath and Meath. In early January, Mullingar District Council adopted a resolution that 'sport of all kinds' be ceased until the prisoners were released.[1] Whilst hunting was singled out for pointed debate, all Gaelic games came under their intention too. Unsurprisingly, this tactic was not wholly adopted and hurling and football were allowed to proceed unhindered, but the idea of targeting hunting did catch on in certain areas.
The logic in targeting hunting is apparent in the wording of the South Westmeath Sinn Féin Executive's direction to local clubs under their remit. It said 'we will not permit English officers or Irish shoneens to make a playground of our country while our leaders are imprisoned'.[2] Shoneen was a derogatory term, much like 'West Brit' in usage, for an Irish person that preferred English customs and traditions to Irish ones.
One of the first blockades of a hunt came in Dalystown, five miles from Mullingar. The Master of the local Hunt, Hope Johnston, was forced to hold back his hounds as he was greeted by a hostile crowd protesting against them. Johnston, who had recently been praised for keeping the Hunt in the area going during the War years when more than half of the members were in active duty, resigned in the face of the opposition to them.
On 18th January, a hunt was organised to be held upon the lands of the Marquess of Headfort, Geoffrey Taylour, near Kells, in County Meath. They were also greeted by hostile crowds and were forced to cancel. A meet of the County Limerick Hounds had been due to take place near Askeaton, where they were met by a large crowd of protesters who indicated that they would not allow them to proceed on that day, or any day until the Sinn Féin prisoners in England were released. To this, the Master, Nigel Baring, said that he was no politician, and despite there being no overt acts of hostility he decided to call the event off. The East Cork Sinn Féin Executive ordered a stopping of the Hunt of the United Foxhounds of Middleton stating that no hunting would take place over their lands until the prisoners were released.
By the end of January, the campaign that had rather humble beginnings in Westmeath became the national policy of Sinn Féin. The National Executive ordered all its members to stop hunts pending the release of prisoners. The notice concluded with the sentence; 'this order is to be taken as instruction', leaving members in no doubt as to the position they were to take.
In some parts of the country, there was little effort to stop hunting. In Wexford, for instance, several meets of the North Wexford Hunt took place without hindrance. This may have been linked to a threat from the Master of the group, who stated that should there be any interference with his hounds, he would leave the district for another where he had been offered a Master position.
In Enniscorthy, however, opposition did manifest itself in an ominous way. A local publication printed a notice, signed by 86 members of the public, several of whom were prominent members of the local Sinn Féin Club, that poison had been laid upon 44 townlands which would be fatal to dogs. This action was, unsurprisingly, the source of great debate in the area at the time and received much criticism.
Criticism towards the policy soon became as vigorous as the Sinn Féin resolution to begin with. It was pointed out to Sinn Féin that their actions would have grave implications for the horse-breeding sector. At a time when there was a huge surplus of horses following the end of the war, the industry would be unable to cope with another blow, and the focus of Sinn Féin, those in opposition said, should be focusing on ways to help boost the horse breeders of the country, not impede them indirectly.
Athy Man Sentenced
From Nationalist and Leinster Times, 8th February 1919
Mr John Hayden, of Offaly Street, Athy, who was recently tried by court-martial in Maryborough for having "treasonable" documents in his possession adopted the ideal attitude of a Sinn Féiner when he was brought before the British tribunal which sentenced him. He said he did not recognise the Jurisdiction of the court and was sentenced to six months' imprisonment for his offence.