"Ruthless Warfare" in South Tipperary?
It is now nearly five weeks since the Soloheadbeg Ambush, in which two RIC Officers were killed. As outlined on a daily basis on the 131 Weeks Twitter account, the military had been feverishly attempting to apprehend those responsible. The town of Tipperary itself, was under effective Martial Law, and fairs were prohibited all over the region. This prohibition was making things very difficult financially for struggling farmers, but the act of forcible prohibition, and the constant checkpoints and searches was leading to a growing sense of anger among the people towards Crown Forces in South Tipperary.
One of the leading members of the Volunteer Company that led the Soloheadbeg Ambush was Seumas Robinson. Robinson was born in Belfast in 1888. Before joining the revolutionary movement in Ireland, he had been in a seminary in Scotland, and was briefly a monk. A veteran of the Easter Rising, he had been sentenced to death, but like many others, instead spent a few months in the Frongoch prison camp. Following his release he was asked to go to Tipperary to organise Volunteer groups in the south of the county.
Robinson's frustration in late February 1919 at the Crown Forces manifested itself in the drafting of an extraordinary proclamation, one that was never meant to see the light of day, but encapsulated a conflict that was to erupt in Munster in a few months time.
From Seumas Robinson's Witness Statement to the Bureau of Military History;
By February, 1919, the R.I.C. were very bitter because none of us had been captured and I got reports of torture to civilians, including Hogan's and Breen's relatives, and the British Government imposed martial law on Tipperary prohibiting fairs and markets.
There was nothing for it but to hit back and I produced the following draft proclamation and sent it to G.H.Q. for approval:
Whereas a foreign and tyrannical Government is preventing Irishmen exercising the civil right of buying and selling in their own markets in their own country, and (b) On and after the X day of February 1919, every person in the pay of England (magistrates, jurors etc.) who helps England to rule this country or who assists in any way the upholders of foreign Government in this South Riding of Tipperary will be deemed to have forfeited his life. (c) Civilians who give information to the police or soldiery, especially such information as is of a serious character, if convicted will be executed, i.e. shot or hanged. (d) Police, doctors, prison officials who assist at or who countenance or who are responsible for, or in any way connected with the drugging of an Irish citizen for the purpose of obtaining information, will he deemed to have forfeited his life and may be hanged or drowned or shot at sight as a common outlaw. Offending parties will be executed should it take years to track them down. (e) Every citizen must assist when required in enabling us to perform our duty. By Order.
Back came the reply from G.H.Q. within twenty-four hours:
"That proclamation must not be published!"
That was all.
I didn't think at that time that Headquarters would have baulked at what the Proclamation implied. [After this reply] I lost confidence in G.H.Q's vaunted "ruthless warfare". There were about seven of us Volunteers 'on the run' for our lives in South Tipperary at that time. We were on the alert 24 hours in the day, while the R.I.C. were able to wove about with impunity, lording it over all the people, man-handling them, arresting them, questioning them, searching them, raiding their houses, allowed to move around freely day and night.
In those early days our young blood would boil at "caution" which we then regarded as "the better part of cowardice." We began to think that G.H.Q., situated in Dublin which was very quiet indeed at that time (February 1919), had little notion of what we of the Southern Counties were up against.
In fact G.H.Q. never did get any practical first-hand experience of the fight in either the City or the country. Not a single member of the G.H.Q. staff ever came down the country to see things for himself. They depended entirely on reports of local officers, and, later, on reports of H.Q. Organisers who were trained in the City on Regular Army military manuals. The best of these by far, Ernie O'Malley, wasn't a week with us when he realised the difference between organisation on paper and on the field, that guerillas and guerilla tactics and training were nearly as far apart as the poles from Regulars and their "orders are orders" training. Regulars are trained to be hidebound automatons, while it is necessary for Volunteers to be trained as autonomous free lances.
To get back to the Proclamation. I had called a meeting of Battalion Officers in anticipation of HQ's consent, and I had had the Proclamation printed. The bundles were in the house where the meeting was held. I explained what I had done and quoted H.Q's reply. I added that I was sorry H.Q. would not sanction the promulgation of the Proclamation; and that I wished G.H.Q. were here for one week even, and they'd probably change their minds: but that wasn't likely to happen. The men had read the Proclamation and seemed very disappointed that they were not to he allowed to paste it up. I then said with significant deliberation: "As H.Q. has forbidden me to post up this Proclamation I hereby warn you all that if I see anyone pasting up one of these posters on telegraph poles, trunks of trees, walls or on the gable-ends of R.I.C. barracks or doors or windows, and especially if I see you pinning one on to the tail of a Bobby's coat you will be severely punished!"
They took me literally at my word: I never saw a more enthusiastic scramble to get those papers out of my sight. In spite of my warning they were posted all over South Tipperary and a bit farther away too. The above must have been the draft I had sent to G.H.Q., the date was not inserted. If that be so it must not have been left behind in Cullenswood House along with a lot of other important papers.
Fears of a Second Pandemic as Influenza returns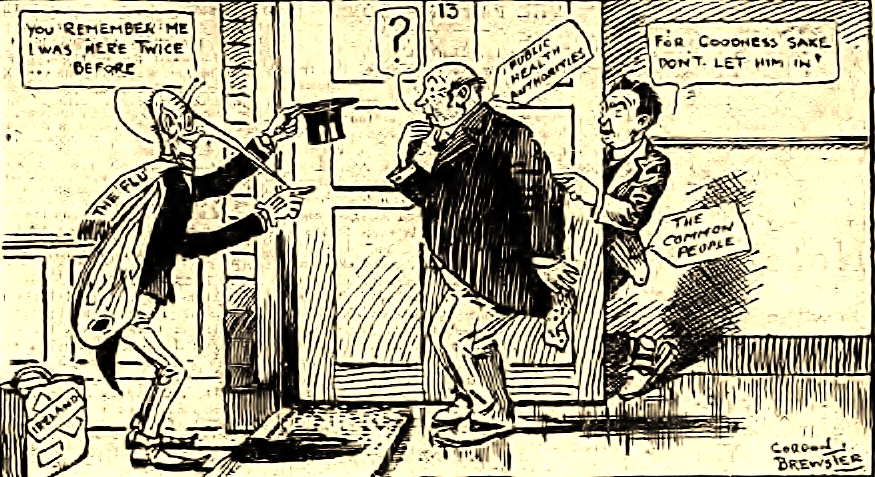 The Sunday Independent's take on the return of the flu. It depicts the flu, with his bags packed and bound for Ireland, with only the the Public Health Authorities standing in its way. Meanwhile, the common people urges the authorities not to let him in, as happened in 1918. Sunday Independent, 23rd February 1919
From the Evening Herald, 18th February 1919
Heavy Death Toll In City and Country
IMPERATIVE PRECAUTIONS
The increase of influenza in Dublin is shown by the following official figures available to-day. The deaths from influenza alone for the three weeks ending February 15 are;
Week ending Feb. 1 - 2
Week ending Feb. 8 - 4
Week ending Feb. 15 -19
There were 14 deaths from pneumonia for the week ended 1st inst., and 19 from the same source for the week ended the 8th inst.
Charles Cameron stated today that he is recommending that Dublin Corporation make septic-pneumonia a notifiable disease. It usually requires 11 days' notice to make a disease notifiable, but, in case of emergency, three days' notice is sufficient, and the present fresh outbreak of influenza is an emergency.
It is understood that a special meeting of the Corporation will be convened to consider this recommendation. The Medical Officer of Health reports a large number of cases of influenza, but a comparatively small number of deaths. The present epidemic is of a similar nature to the last outbreak, but of a less virulent type. The current influenza epidemic is raging all over the country. The death announcements show that the rate of mortality is alarmingly on the increase since last week. Up to the present no action lias been taken by the health authorities in Dublin. The disease is not made a notifiable one ... and there seems to be very little precautions taken to avoid contagion.
GRIP OF THE 'FLU
Bray—Numerous cases. Mr. Denis Mullally, Town Clerk, and Dr. Neil, M.O., have died.
Cork—Union Hospital, 50 cases. South Infirmary, several cases, including four nurses. Business houses seriously affected. Several deaths in the city.
Athlone—300 cases. Workers stricken and industries affected. Some schools closed.
Kilmallock—50 cases in hospital. Several deaths.
Youghal—Families stricken. Influenza rife in town.
Killarney — Businesses seriously inconvenienced owing to outbreak in district. Quarterly Sessions adjourned.
Other places affected by the epidemic are: East Cork. West Cork. Clifden, Tipperary, Youghal, Waterford, Enniscorthy
FLU PRECAUTIONS
Don't use public telephones. If fairly young and strong, ride outside rather than inside trams. Don't get wet feet. If you do, walk home … Wear warm loose-woollen clothing. Drink hot milk or lemonade when going to bed .
From Evening Herald, 20th February 1919
MASKS IN LONDON
The medical officer at Newcastle, where the influenza deaths up to Tuesday night numbered 70, pneumonia deaths totalling 15, has arranged for military assistance for local undertakers, who are unable to keep pace with the work.
To combat the spread of influenza the Manchester Medical War Committee is applying for about 20 more doctors to be released.
At Leigh (Lancashire) there were 23 deaths from influenza lust week, and the death-rate from all causes was the highest in the history of the borough. The local grammar school has been closed until next Tuesday, four teachers and 50 scholars having been attacked.
The body of Gertrude Boucher, 31, shop assistant, was found yesterday in the deep water of the river against Scalby Bridge, near Scarborough Bay. She had been depressed following influenza.
Sir Robert Horne, the Minister for Labour, is an influenza victim.
New Zealand is sending nurses to Australia to [combat] the influenza, which is spreading in Victoria.
Mr. Henry Grace, Bridge Farm, Lainford, a South-West Lancashire farmer, has lost his mother, his wife, ,and baby child, and his four-year-old from influenza, all four dying within two days of each other.
Sir John and Lady Lavery are both ill with influenza, but going on as well as can be expected. ...
In the rural districts outside Enniscorthy the influenza epidemic is very prevalent but the deaths are not as numerous as they were last week. One of tho latest victims is Mr. Pat. Roche, a young married man with a wife and family, who was a member of the Co. Wexford senior hurling team. Mr. Michael. Bolger, chemist's assistant, a prominent figure in local coursing circles, has also succumbed.
The epidemic is rapidly spreading in Ballinasloe district at present, up to 200 aro affected. All the linotype operators on the stall of a Birr newspaper being laid up with influenza, arrangements had to be made to have part of the paper set in Dublin.
Amongst those who have been ill are Mr. Knox. D.L, Birr, and some of the Birr police.
Attempted Assassination of the French Prime Minister
The French Prime Minister, Georges Clemenceau.
From Irish Independent, February 20th 1919
SHOT THROUGH THE SHOULDER. A PARIS SENSATION ASSAILANT MAULED BY ANGRY CROWD.
KING GEORGE'S MESSAGE OF SYMPATHY
A determined attempt was made to assassinate M. Clemenceau, the French Premier, in Paris yesterday by a man who fired seven times. A bullet has been located in the region of the Premier's right shoulder.
It was stated at mid-day that his condition was serious, but the latest official message states that the doctors hope there were no injury to M. Clemenceau's lungs or spine, that although he coughs a good deal there is no evidence of blood, and that his condition is satisfactory.
The King, in a telegram to the French Premier, said he was shocked to hear of the dastardly attack, and expressed the hope that he would be restored to health …
The King sent the following message to M. Clemenceau;
"I am shocked to hear of the dastardly attack upon you this morning. I earnestly trust that the injuries you received are not serious, and that, thanks to your splendid energy and courage you will soon be restored to health lo continue your great and valued effort for France and the Allies"
STORY.OF THE ATTACK ASSAILANT ARRESTED
Tho attack was made on the French Premier as he was driving, after 9 a.m. …
A man made a rush from the pavement to the Premier's motor car und fired seven shots from an automatic pistol, which pierced the hood of the car, whilo one hit the Premier's shoulder. Tho chauffeur was slightly wounded. The Premier, after the attack, said: "It is nothing" and walked home.
The would be assassin, whose name is Emil Cottin, aged 25, ia a native of Croil and cabinet maker by trade.
Émile Cottin, the man who shot the French Prime Minister. He was initially condemned to death, Cottin's sentence was commuted to ten years imprisonment after a campaign by French anarchist newspaper Le Libertaire, who noted that the successful assassin of Socialist leader Jean Jaurès had not received the death sentence, while Cottin, who had failed, had. Following his release from prison, Cottin remained under house arrest for some time at both his parents' home and his children's. In 1936 he joined the Durruti Column, the largest anarchist column formed during the Spanish Civil War, and fell in battle at Farlete, near Pina de Ebro in the Province of Zaragoza, in Aragon, Spain. - https://en.wikipedia.org/wiki/Émile_Cottin
Wexford defeat Tipperary to win 1918 All-Ireland Football Final - Four in a Row for Wexford!

The Victorious Wexford team that defeated Tipperary by a point to win their fourth All-Ireland final in a row
From Irish Independent, 17th February 1919
THE CHAMPIONS SCRAPE HOME. TIPPERARY'S GALLANT STRUGGLE.
WEXFORD - 5 pts. TIPPERARY - 4pts.
By defeating Tipperary, Munster champions, the Wexford footballers won their fourth All-Ireland Football Championship in succession, thus establishing a wonderful record. The game was played at Croke Park in presence of about 10,000 spectators, and was the best seen for years; in fact, it was reminiscent of the games played between Kerry and Wexford some years back. There was never a dull moment throughout: the pace was a cracker, and the football right good. The only drawback, perhaps, was the large number of frees awarded to either team. Tipperary, who gave evidence of their course of training at Dungarvan, forced the pace, and, playing in splendid style, had two points to their credit during the first quarter. Wexford settled down better after these reverses, and, scoring three points in quick succession, led at the interval. The second portion was of the most stubborn description. Tipperary attacked in gallant style, but met a rock-like defence. Wexford added on a point, but Tipperary showed up splendidly afterwards, and, after drawing level, looked like gaining the honours.
In addition to the large number of frees, there were many "hopped balls." Wexford, in characteristic fashion, rose manfully to the occasion, and literally snatched victory out of the fire. Tipperary played a splendid game right through, their centre-field and defence being equal to anything ever witnessed in football, while their fielding was excellent: but their forwards lost them the championship. Wexford, on the other hand, also played a great game, and, considering they were minus some of last year's stalwarts, notable Shaun Kennedy, "Furlong" and Murnagh, all now retired, they deserve congratulation on their victory.
THE PLAY. CHALLENGERS BEGIN WELL. Winning the toss, Wexford played for the city goal. Tipperary got away when a foul spoiled, the free giving them a footing in Tipperary ground. The pace was fast, and some interesting exchanges left play at the centre. Wexford were penalised and Tipperary were attacking when a second free by T. Ryan resulted in a "50," which was cleared. Doran kicked into Wexford ground. The ball was returned, and Tipperary had another free. Shelly put Munster on the attack, when a wide resulted. A grand rush by Tipperary, and McGrath came out to save. T. Kennedy, getting possession, made ground for Wexford, but they were beaten off, and Tipperary again got going, when Heffernan kicked wide. Wexford, per Byrne, advanced, and from a free the same player sent to Gus Kennedy, who shot inches wide. Doyle nullified a free to Tipperary, but Munster again broke through, and McCarthy crossing to Skinner, the latter kicked a point for Tipperary. Byrne and Hodgins worked through, another wide resulting. From the centre, when Ryan sent down, Skinner tested McGrath in the Wexford goal. He cleared, and although the ball was returned nothing tangible resulted. Wexford combined finely, and Byrne transferred to Todd, who missed a great opening. T. Ryan took a free for Tipperary, and McCarthy, getting possession, shot their second point half-way through the period. A free to Wexford 50 yards out was returned, but a second free enabled Byrne to open Wexford's scoring.
TIPPERARY LOSE LEAD. Hodgins and Howlett put the champions on the attack and the Tipperary backs were seen to great advantage. Another Wexford attack was nullified by a foul. From a free to Wexford Gus Kennedy sent in to Redmond, whose shot was splendidly saved by Carroll, the Tipperary custodian. Soon afterwards, however, Todd equalised the scores by shooting a point. At the other end Mackey was fouled and the resulting free put Wexford attacking. Shelly clearing in grand style. Tipperary, moving up per McCarthy, were beaten off, and Gus Kennedy led a fruitless Wexford move. In the next minute this player, who was in fine form, shot inches wide. Wexford were now doing best, and Byrne, from a free, placed to Redmond, who scored a point, giving the champions the lead, which they looked like increasing until McNamara repulsed in fine style. Tipperary were in the other half when the interval came with the champions leading by 3 points to 2.
WEXFORD'S NARROW WIN. Resuming, Hodgins got away, and McNamara stopped him, whilst from a free to Tipperary, Byrne saved. Tipperary attacked fiercely, and Mackey made a marvellous save. A free to Wexford put the Tipperary goal in jeopardy, and, although Kennedy, Hodgins and Todd participated, the Tipperary defence forced a wide. Wexford then had a "50" free, and Byrne's shot was cleared by E. Egan. T. Doyle held up a Tipperary rush, and the Wexford forwards were in possession when a foul spoiled. McNamara changed the scene of operations, but again Doyle intercepted, and let the Model Co away to force a "50" free. From this Byrne drove the ball well in. Kennedy received and passed to Todd, who shot over the bar. McCarthy secured the ball from the goal-kick, and, sending to Skinner, the latter missed badly when a score looked certain. A couple of frees to each in turn yielded nothing, and then at a short interval, a player on each side was hurt, but they resumed.
HARD LINES FOR MUNSTER MEN. Tipperary set up a strong attack, and Heffernan kicked a point after the whistle had sounded. The score was disallowed and a free given in front of the posts. A goal was tried for without result, as Mackey again proved his worth. Tipperary were having the better of the argument just now, and getting a free close in T. Ryan shot a point. McNamara broke up a grand rush by Wexford, and the Tipperary forwards, getting possession, Skinner sent to McCarthy, who levelled up the scores by shooting a point, amidst tremendous cheering. Almost immediately afterwards a fine movement by Wexford resulted in a score as Kennedy sent to Redmond, who kicked a point. In a Tipperary attack Doyle sent out, and then Kennedy, for Wexford, put in a grand run, but the final effort went wide. The play at this period was most exciting with but one point separating the scores. Tipperary were attacking, and McCarthy missed a great chance. A free to Wexford, and McNamara, who was playing a great game, again beat off their attack. The champions continued to play strongly to the end, and were in Tipperary ground, when the final whistle went. Mr. P. "Patrick" (Leix) had a busy time as referee.
THE TEAMS. Tipperary – A. Carroll (goal), J. McNamara, N. O'Shea, J. Shelly, W. Ryan, E. Egan, T. Powell, J. Quinlan, J. Ryan, W. Ryan, W. Grant, J. Skinner, H. Heffernan, A. McCarthy, J. Shea. Wexford – T. McGrath (goal), N. Stewart, P. Mackey, J. Byrne, T. Murphy, T. Doyle, M. Howlett, W. Hodgins, J. Doran, J. Crowley, R. Reynolds, P. Todd, A. Doyle, G. Kennedy, J. Redmond.